Welcome to the homepage of Ella the Cat
My sister Sam. 03 November 1986 - 02 November 2001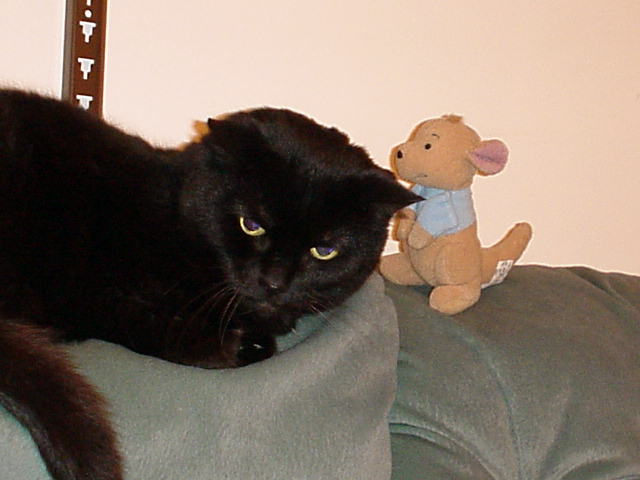 I'm Ella the Cat. I'm 15 years old, That's 76 in cat years. I recently survived a saddleback embolism, but sadly, my sister Sam has just died, one day short of her 15th birthday. That's her picture above.
---
That's me, Ella the Cat, on the bottom right. The other pictures are of Aibo, Sony's robot dog, who I'm purrfectly friendly with, despite his doggy behaviour. I'm also purring about the rather nice Sony DSCF55E digital still camera, which despite being called a still camera, took these 160x112 MPEG movies of Aibo with accompanying soundtracks as well as the 1600x1200 still image of Ella. Oh, there are some hamster movies too.
---
Each 160x112 movie or 1600x1200 still image is around 350k bytes!

| | | | |
| --- | --- | --- | --- |
| | | | |
| | | | |
| | | | |
| | | | |
---
---
For the technically minded among you, this website was produced using XEmacs on a machine running SuSE Linux 6.2. In case you are wondering, it's now possible to download both still images and MPEG movies from the DSCF55E using Linux. Purr!
---
---
Copyright notice: This website and all material in it, excluding (1) this background image believed to be in the public domain and distributed as KDE desktop wallpaper, (2) any material referenced by hyperlinks to other websites, (3) any material used to link to a webring or website as provided for that purpose. is copyright 2000 Ella the Cat, where Ella the Cat is the pen-name of the author, the author being the holder of the F9 account associated with these homepages as of 07 Feb 2000, contactable via the email address below. It's cool if you mention Ella the Cat. If you would like any hyperlinks referencing your site or anything else to be removed from these pages, contact the author at the email address below.
---
Ella the Cat Last modified: Fri Nov 2 11:29:44 GMT 2001